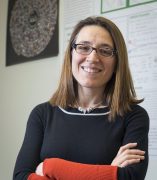 Daniela Tuninetti
Professor, and Interim Department Head
Department of Electrical and Computer Engineering, University of Illinois Chicago
Pronouns: She/her
Contact
Building & Room:
1038 SEO
Address:
851 South Morgan St.Chicago, IL 60607
Office Phone:
Email:
CV Link:
About
Information Theory: ultimate performance limits of multi-terminal networks.
— Cache-aided networks.
— Distributed Coded Computing and Coded Data Shuffling.
— Index Coding: Pliable, Decentralized and Secure.
— Wireless interactive (cooperative, or cognitive or with feedback) interference networks.
— Asynchronous massive access and sensor/IoT systems.
Communication Theory: co-design of digital communication systems and sensing radar systems, and 5G systems.
— Low-latency high-reliability communications.
— Coexistence of communication and radar systems.
Biomedical AI: design of on-demand / adaptive / closed-loop feedback-controlled Deep Brain Stimulator (DBS) for patients with pathological tremor (i.e., Parkinson's Disease and Essential Tremor). Potential application to epilepsy, depression, chronic pain, etc.
Selected Grants
NSF, CIF: Small: Fundamental Tradeoffs Between Communication Load and Storage Resources in Distributed systems, PI (100%)
NSF, CIF: Medium: Delay, Reliability, Rate Tradeoffs in Wireless Broadcast Channels, co-PI (33.3%)
Professional Leadership
Editor of IEEE Transactions on Wireless Communications 2010-2014, IEEE
Associate Editor of IEEE Transactions on Information Theory 2014-2017, IEEE
Associate Editor of Elsevier Computer Communications Journal 2019-present, Elsevier
Board of Governor member IEEE Information Theory Society 2018-present, IEEE
Distinguished Lecturer EEE Information Theory Society 2020-present, IEEE
Editor of IEEE Transactions on Communications 2021-present, IEEE
Notable Honors
2002, Best Paper Award, EW2002 (European Wireless)
2006, Career Award 0643954, NSF
2010, COE Faculty Research Award, UIC
2015, University of Illinois Scholar, University of Illinois
2020-2022, Distinguished Lecturer, IEEE Information Theory Society
2021 - present, IEEE Fellow, IEEE
Education
Ph.D. Electrical Engineering Telecom-ParisTech (former Ecole Nationale Supérieure des Télécommunications de Paris), Paris, France, 2002
M.S. (Laurea, summa cum laude) Electrical Engineering, specialization Communications Politecnico di Torino, Torino, Italy, 1998
Research Currently in Progress
Distributed Private Function Retrieval; Coded Caching; Coded Distributed Computing; Pliable Index Coding; Security, Privacy and Robustness, Fading Broadcast Channels in the finite-length regime.
Intellectual Property
Daniel Graupe, Daniela Tuninetti and Ishita Basu,
"Apparatus for managing a neurological Disorder";
 US 8,391,986 B2; Filed: 05/12/2009; Issued: 03/05/2013; Est. Priority Date: 05/13/2008.